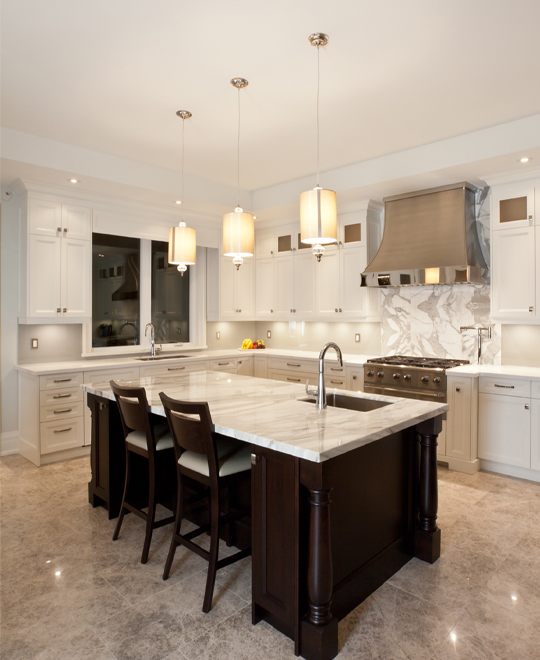 We Strive for customer satisfaction
With OnTime Remodeling home improvement specialists, your experience with us is our greatest concern. The longevity of our company comes through repeat and referral business achieved by customer satisfaction in all areas, including timeliness, attention to detail, respecting our customers' budgets and homes, and our integrity.
We also strive to create a work environment where all members of our company family are recognized for their quality of work and are developed to reach their potential. OnTime Remodeling is the only home remodeling contractor you'll ever need or want to do business with.
You can entrust your most valuable asset — your home — to us.
When it comes to working with kitchen design and remodeling OnTime Remodeling is it!! With over 30 years of combined experience in the industry, our professionals are more than equipped to handle whatever remodeling job you may be interested in. No job is too big or too small for our team of professionals. Not only that, but our experts understand just how important kitchen remodeling projects can be. As the center room of the home, we will make it happen for you.
We can make your dream home into a reality with just a few simple steps! If you want to feel comfortable inviting guests over to dine at your home, our team has you covered. With such responsibility given to those working on your home, you're going to want to make sure you chose the best team for kitchen design and remodeling. Make your choice simple with OnTime Remodeling. You can request an appointment today!
Market-leading Companies That We Trust

Benjamin Moore
Committed to the vision of producing some of the highest-quality paints and finishes in the industry while keeping up with current color trends.

Sherwin-Williams
No matter what surface you're coating, they continuously provide innovative and eco-friendly products and solutions on how to choose paint colors that ensure your project's success.

Farrow & Ball
Dedicated to crafting eco-friendly formulas that are kinds to the world. Created in Dorset, England and founded in 1946.

First Atlanta Flooring
With more than half a million square feet of wood flooring, pre-finished or unfinished, always in stock, First Atlanta Flooring is proud to be the hardwood floors supplier of choice for more than 1,500 builders, contractors, designers and flooring installers in Greater Atlanta Metro area and North Georgia.

Floor & Decor
Market leading specialty retailer of hard surface flooring, offering the broadest in-stock selection of tile, wood, stone, related tools and flooring accessories at everyday low prices.
Our trusted partners for all your painting and renovation needs
Ontime Remodeling has worked with all these partners for years, and you can trust that they provide the latest, most innovative products based on the latest trends and technology for your home or business. Their products give you the best return on your investment, as they are designed to be sustainable.
Trust us to use long-lasting, vibrant, and easy maintenance products. Sometimes, customers fail to notice the huge difference between builder-grade (low-quality) paint and high-quality paint; the same goes for products such as flooring, tile, stone, cabinets, lighting and other finishes.